George Smith, Mr Dalton, Banks & Liddle, Richard Bulmer, James Hall, William Stoveld, Middle Dock Company, The Middle Dock and Engineering Company Ltd., British Shipbuilders
Brig, Brigantine, Snow, Paddle Steamer, Barque
Customers (Not Exhaustive):
The Middle Docks have an illustrious but complex history, going through a number of owners in the 18th century.

It was first shown in a plan of the Tyne in the late 1760s, but is first mentioned by name in 1772 when the Brig "True Briton" was constructed here. At this time it was owned by Mr George Smith, and was described as a "large and commodious double dock, spacious building yard, smith shops, warehouses, and all other necessary conveniences and appurtenances".

Another dock was constructed at some point in the 1890s, and were running seperately. James Hall was running the original dock to the south, and a William Stoveld from Blyth was running the north dock. Stoveld had already been building ships at Blyth by this point, building convict ships for the East India Company. Both continued to operately seperately until unification under Hood, Henderson & Woods who formed the Middle Dock Co. in the mid 19th century. They built around a dozen wooden ships until 1870, when they shifted their business solely to ship repair. This was the case for the rest of the docks' working life.

The Middle Dock Co. was sold and became the Middle Dock and Engineering Co Ltd. in 1899. A third dock was opered in 1809 with commenced a large reorganisation and expansion of the yard. Electric cranes were installed and the docks were enlarged, with a fourth dock constructed during World War One. This demolished the old Metcalfe Dock.

The result of the expansion led to the yard becoming the second largest on the East Coast north of London. After WWI the oldest docks were again upgraded and was employed to full capacity in the next couple of decades. From 1977 the Middle Dock and Engineering Co. became British Shipbuilders, specifically its repair division.

The docks are still extant and listed, though many of the ancillary buildings have been demolished due to new housing developments as of 2023.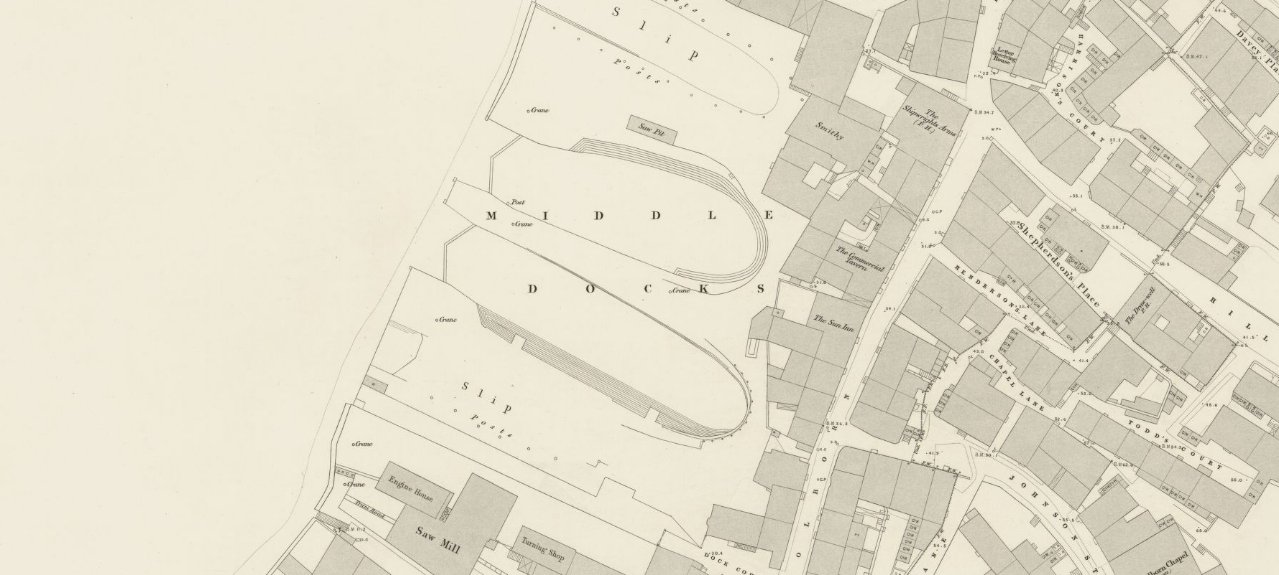 Have we missed something, made a mistake, or have something to add? Contact us
Historic Environment Records
Durham/Northumberland: Keys to the Past
Tyne and Wear: Sitelines
​
HER information as described above is reproduced under the basis the resource is free of charge for education use. It is not altered unless there are grammatical errors.
Historic Maps provided by