NEHL - Felling Park was opened on 27th July 1910 by Mr William Taylor, chairman of Felling UFC. It was built on the site of an old quarry and tip, and provided locals with a childrens playground and a tennis court, while the bowling green was still being formed at time of opening.

It was designed by the council surveyor C W Hall and works carried out by Mr Nichol of Gosforth. The boundary walls and gate pillars were produced by Mr Morris of Felling, the iron railings by Mr Crinson of Gateshead and the tennis courts & bowling greens designed and built by Messrs. Kent and Bryden of Darlington.

It appears the tennis courts have since been removed, replaced by an asphalt playing surface. The bowling green is still in use.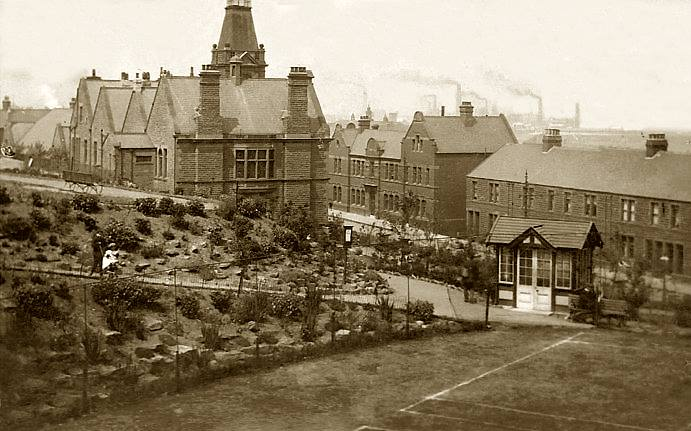 The side and rear elevations of the UDC from Felling Park and its tennis courts at time of opening. Unknown original source. The bowling green is seen on the left.
Have we missed something, made a mistake, or have something to add? Contact us
The park is shown on this overhead shot from 1943. Source: Historic England Archive (RAF photography) Historic England Photograph: raf_1cu_16000_o_16751 flown 23/08/1943
Historic Environment Records
Durham/Northumberland: Keys to the Past
Tyne and Wear: Sitelines
​
HER information as described above is reproduced under the basis the resource is free of charge for education use. It is not altered unless there are grammatical errors.
Historic Maps provided by