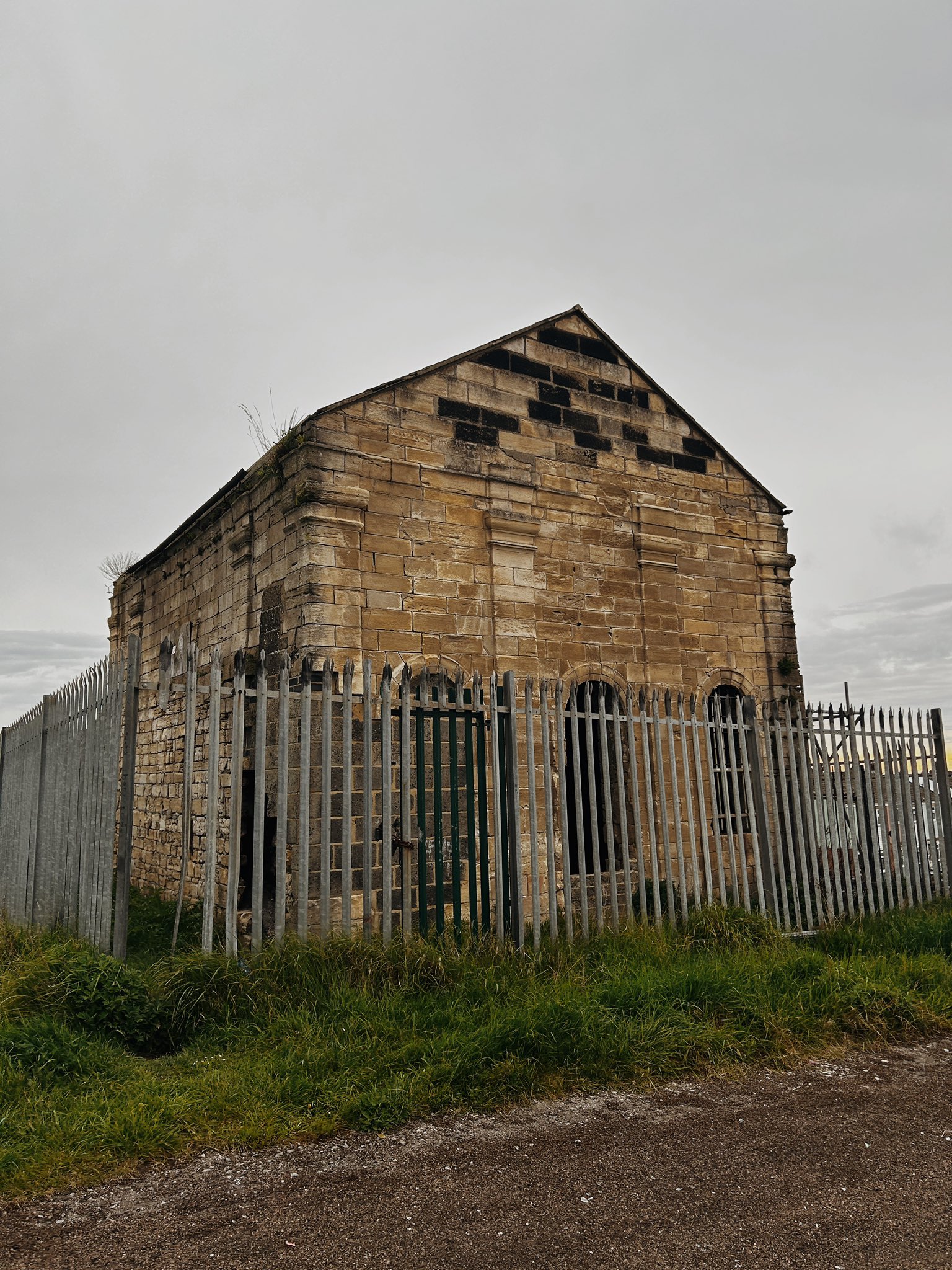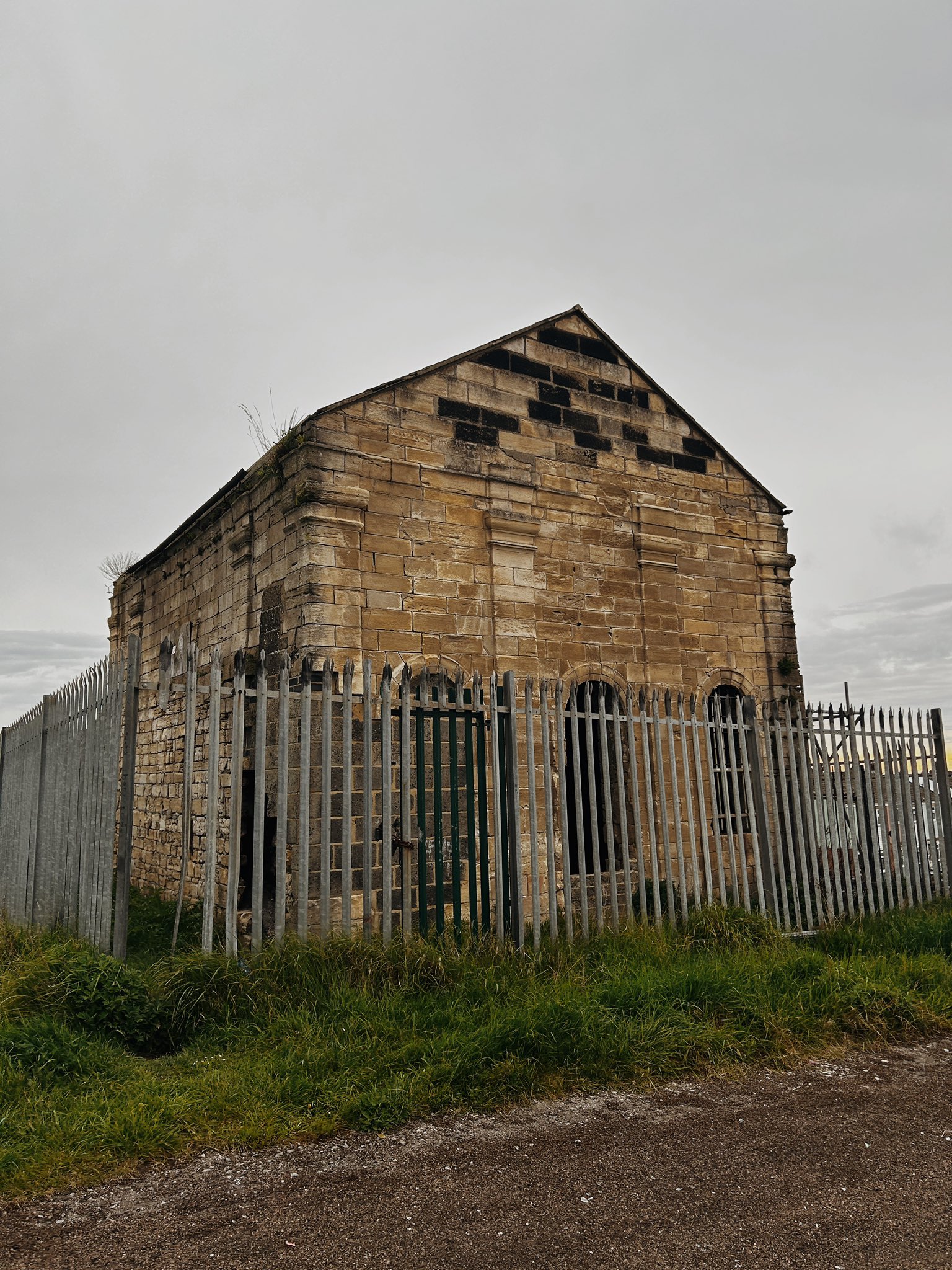 Throston Engine House was built in the late 1830s to house a steam winding engine. This was placed here to haul coal waggons from the mines dotted along the Stockton & Hartlepool Railway to the staiths at Victoria Dock. They had to climb up a small but steep 14ft incline. This work continued on for a decade before disputes rose about the expense of shipping coal from this dock. It was very expensive to ship here partly thanks to the logistical difficulties. As a result, the Stockton & Hartlepool Railway stopped using this dock and built its own at West Hartlepool in 1847. The growth of West Hartlepool can be pinned to this event and this building, as the area expanded thanks to the perpetual growth generated by its ease and construction of larger docks and facilities. The inefficiency and high cost of the Hartlepool Railway at Throston forced the coal companies into seeking alternative solutions, and West Hartlepool was the product.

The Engine House was built of Magnesian limestone in a Neo-classical design similar to many others of the period. Previously, the roof was flat and had a water tank on top with a chimney that was designed to look like a period column. After the engine became redundant in 1847, the building was used as a reservoir. Presumably a water tower for locomotives.

During World War Two it was used as a water softening plant. This process prevented a build up of limescale in locomotive boilers. A clean and good standard of water was very important for the servicing and maintenance of steam locomotives. Processes had to take place for the water to be suitable and pure enough to be used in a locomotive. Funnily enough, There's a Thomas & Friends episode i've watched with my daughter that explains exactly this!
Listing Description (if available)
Historic England Listing - Wrongly shown on O.S. map as Clifton Street. Housing for hauling engine, 1830's, limestone ashlar; gabled Welsh slate roof added later after removal of header tank. Single storey, with basement fully exposed on south-east and north-east sides, other two sides concealed by railway embankment. Each face has Tuscan pilasters and clasping pilasters, rising from floor string, and with entablature. Rebuilt gables to north-east and south-west sides, which together with south-east side are each of 3 bays. 2 windows and central doorway to south-west side; 3 windows to south-east side, all round-headed, with moulded architraves continued to floor string, and lacking doors and glazing. 4 blocked round-headed openings, that to left being later, on south-east face of basement. Lower part of north-west side obscured by remains of contemporary adjoining building, above which, pilasters define single-bay returns on this side, at each end. Extending from north angle: a low wall, with string course below parapet, of 2 bays defined by single pilaster strip on north-east face, and having 2 round-headed openings without glazing. Contains remains of bed of hauling engine used to draw coal wagons up railway incline to top of former coal staithes. Dispute between railway companies over use of these coal-shipping facilities was major factor leading to founding of new town of West Hartlepool in 1840's. (https://historicengland.org.uk/listing/the-list/list-entry/1250389?section=official-list-entry)
The Ordnance Survey maps above provide an insight into the Throston area in the late 1850s and the late 1890s. Throston and the Headlands saw dramatic change, as industrialisation really came to a head from the 1830s. Much of Durham's coal output was funnelled through these railways and shipped from the Victoria Dock, making the Engine House the final checkpoint for many of the old locomotives travelling from inland. It can be seen labelled as "reservoir", when it was used to hold water. There are a number of other industries extant from when the village was much smaller, such as the old limekilns on the coast and Millbank Forge which became Hartlepool Brass and Engineering works.

The 1901 map shows a much more dense area. Tramways had reached the headland to provide a transport service to West Hartlepool. and other public utilities like urinals and schools had opened in the area to better facilitate a decent standard of living in an industrialised urban Hartlepool. Though less coal was shipped from here, it was still the portal to Hartlepool's station and therefore still expanded.
The Ordnance Survey of 1919 is very much a continuation of the scene in the late 1890s. By this time, the Brunswick Brewery had closed though which had been in place since about 1835. A number of public houses and chapels also sprung up which was very typical of a North East working class industrial area.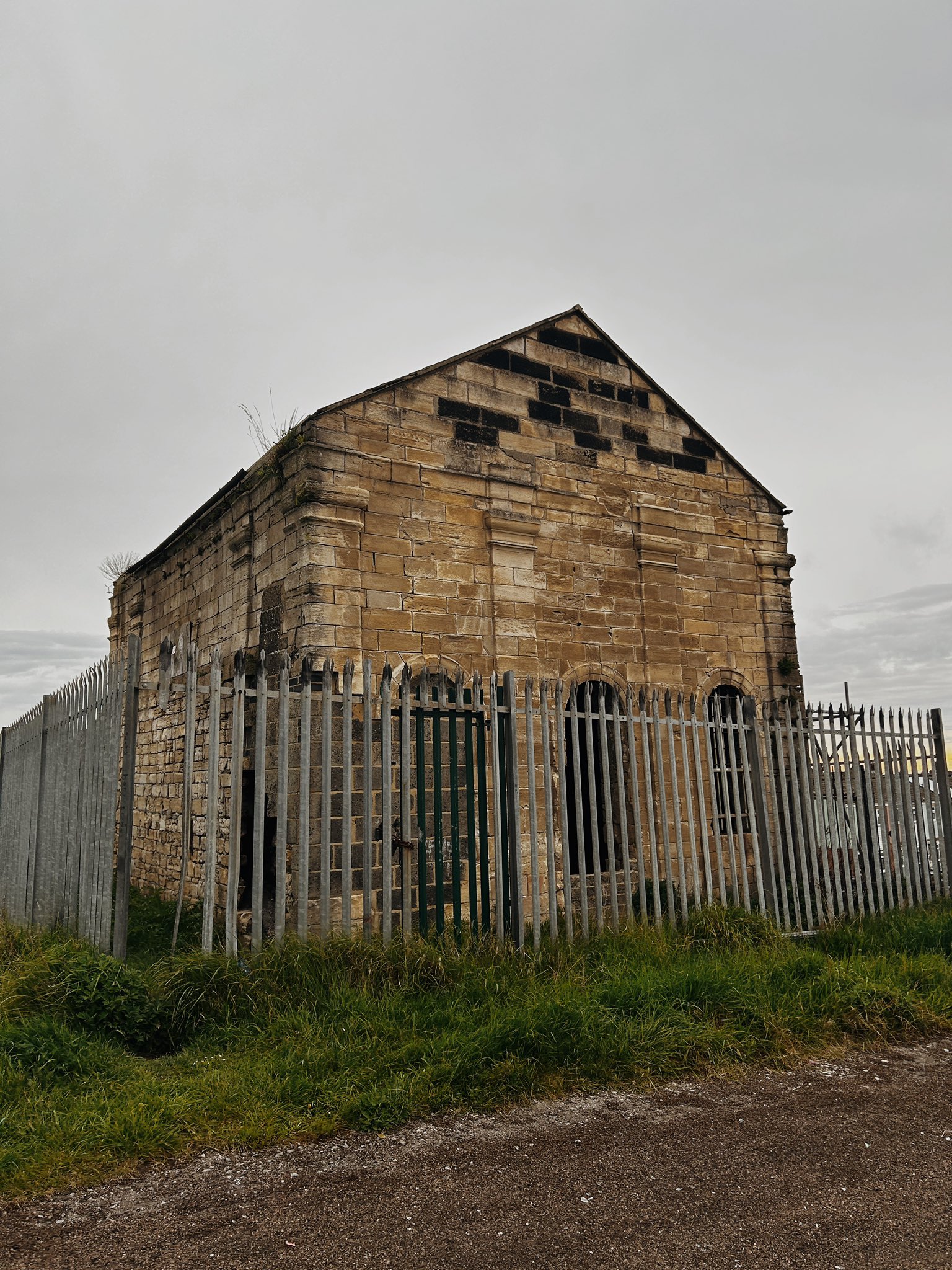 The Engine House in 2023. As you can see, the building is fenced off (though doesn't stop some people) because of the damage and wear over the past 2 centuries. Breezeblocks have replaced the old stone in some placed to stop it falling. However, the pleasing classical design is still plain to see.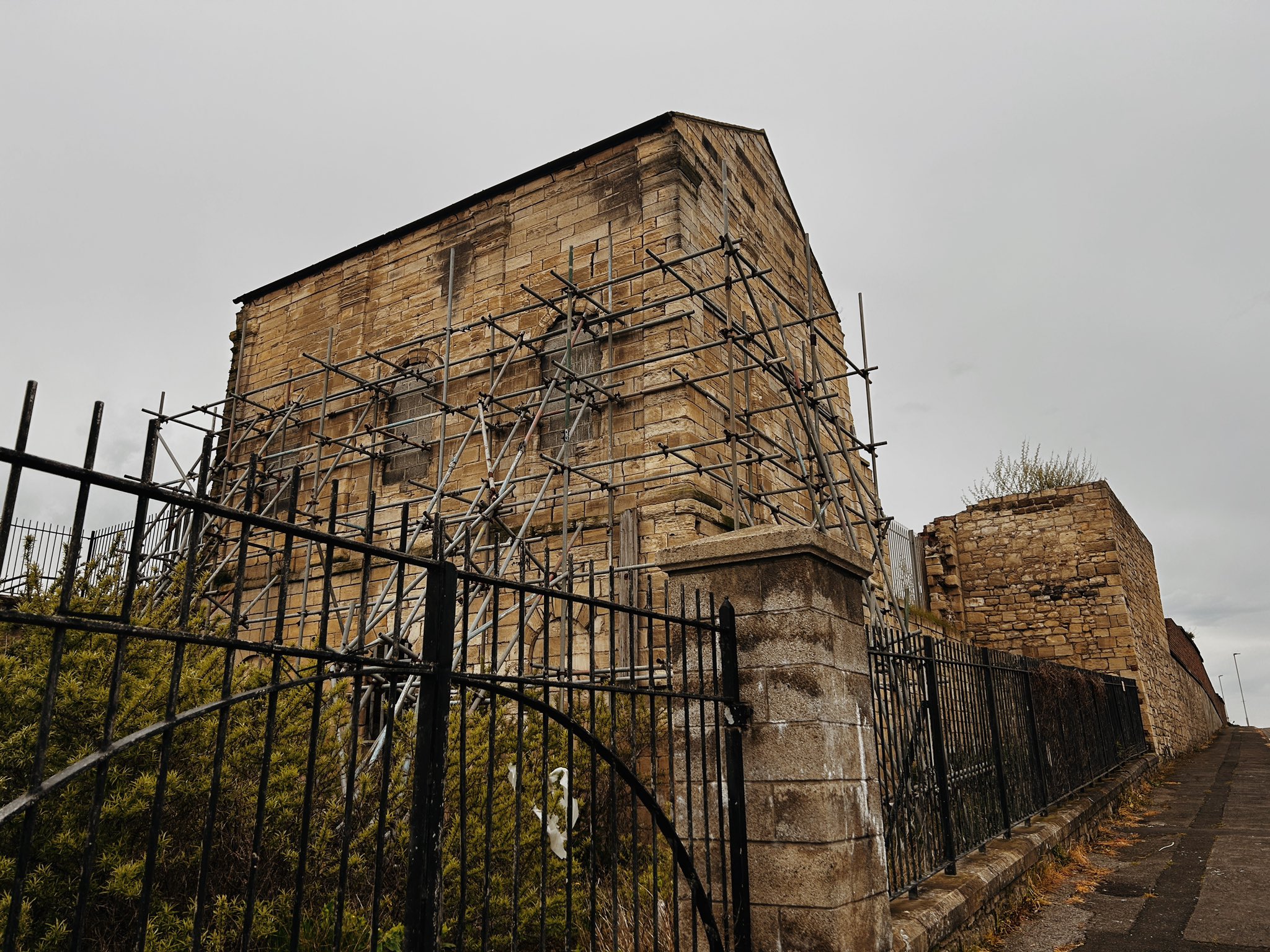 The other side of the building presents a similar picture, with the windows covered by breezeblocks and scaffolding to support the strength of the building. The adjoining wall seen here is also listed.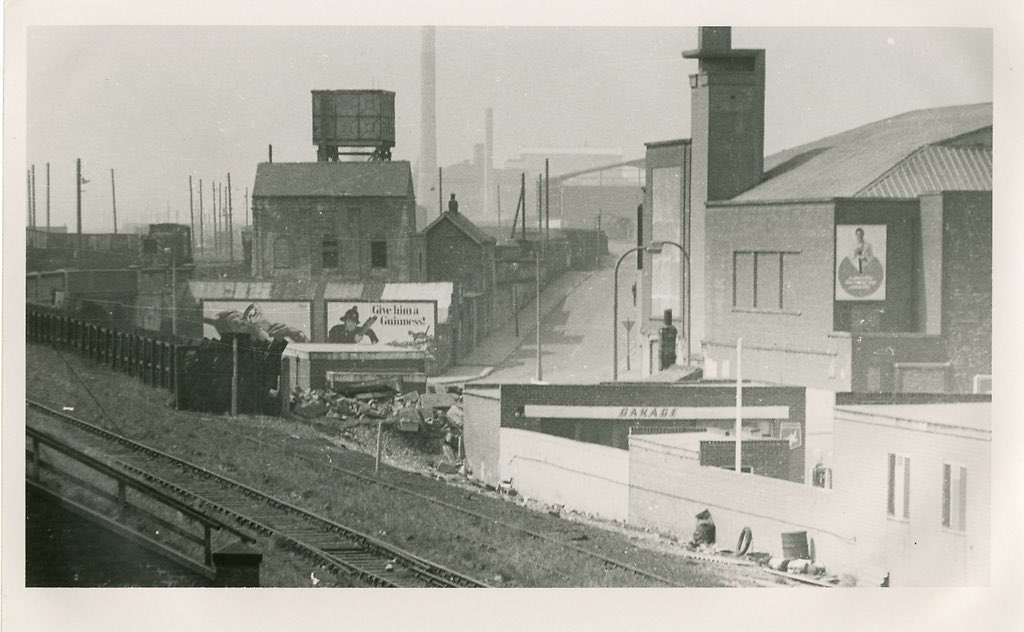 The engine house and water tank can be seen from this shot looking north from the railway. Source: Hartlepool Museums